EAST
By Wyn-Lyn Tan : Premier Issue
June 1999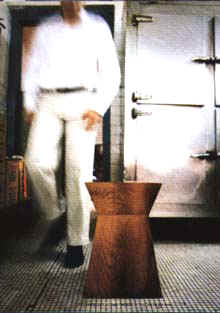 Photography : Peter Lau
Others in this story included:
Raynor Neo & Tristan Tan of Cream, Patrick Chia, Arabella Richardson & Stephanie Hauger of The Merchant Design Company, Mike Mohan of Moss Living.
go to: Brancusi's Endless Column
D E S I G N S O N G R A N D U E R
Good taste and good style. And they're in Singapore. Making lamps, chairs, cushions and throws, these five young men and women are pushing Singaporean furniture in new and often pleasing directions.
Ed Poole always knew what he wanted to be when he grew up. This interior designer and architect grew up climbing around houses and construction sites in suburban America. He admits that by age three, he had already decided on his chosen profession.
Best known for fashioning a heavenly host of Singaporean restaurants and entertainment spots - from the island's Haagen-Dazs outlets to his latest theme restaurant Wok & Roll - it's no question that the little boy from Chicago has hit it big.
It wouldn't be fair to pigeon-hole Poole. His style slides radically, from Christian Liaigre to Suzy Wong. But there is one way of recognizing an Ed Poole project, thorough research. "How the process goes is that I ask the client to describe [the interior] to me in one word, and we work from there". Acid jazz inspired Hu'u Bar at the Singapore Art Museum, sprang from a simple need, a place that would be "artistic".
Poole poses behind a custom-made Balinese teak podium.
The teak podium shown above, designed for Hu'u Bar at the Singapore Art Museum was inspired by the Romanian sculptor Constantin Brancusi (1876-1957) The Endless Column. Any resemblance to the work of Christian Liaigre is purely coincidental - ePoole
This coincidence was clarified in a delicious lunch meeting between Mr. Liaigre and Ed Poole at brasserie La Coupole, Paris : 24th July 1999.