APARTMENT LIVING
By Emma Warlow
Feb | March 1997
Bobby Rubino's at Chijmes, Singapore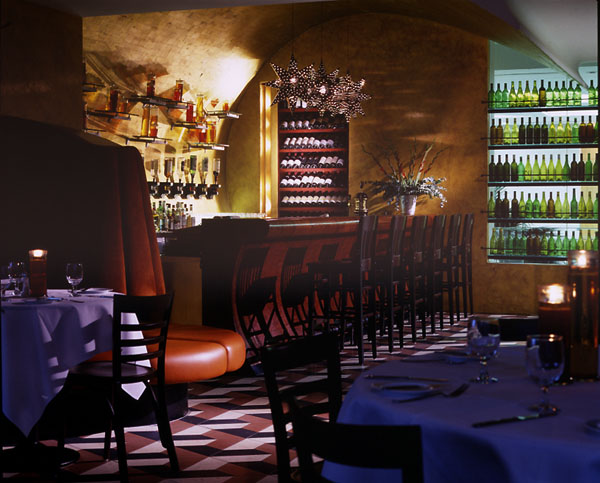 The Spot On The Hub at Science Park 1, Singapore
Photography by: Peter Mealin
P O O L E D R E S O U R C E S
An American architect transforms the face of much of Singapore. Emma Warlow gets the Poole concept.
Regular readers of Apartment Living will be very familiar with the work of Chicago-born Ed Poole - the interior of the Spot On The Hub, photographer Gary Sng's apartment, and the Tiong Bahru home of Nick and Zee King have all been featured in the past year. So we thought it was only right to offer an insight into the philosophy of this American-registered architect and his company, Poole Associates.
Ed Poole arrived in Singapore seven years ago en route for Hong Kong from Australia where he had lived and worked for the previous three and a half years. "Things were great in Australia until the recession hit. I made the decision to travel the long way round to Hong Kong, where a lot of work was to be had. In Lombok I burst my eardrum while diving and was stranded in Indonesia for far longer than I'd planned. I pitched for various positions in Singapore, and the overwhelming response I got convinced me to come". His first job was on Blue Moon in Cuscaden Road (now closed) with Space Partnership and thanks to contacts made there, within six months he felt able to take the plunge and go solo. A year later, work was good enough to require additional help, and Poole Associates was born.
Poole and his English partner, Andrew Jones, would strenuously deny that there's a Poole Associates look, but anyone who's admired the spare glamour of Spot On The Hub or the retro take on Peranakan tradition that makes The Blue Ginger Restaurant so accessible will feel a frisson of deja vu when they walk into two recently completed restaurant projects - Bobby Rubino's and Nomads in Chijmes' Fountain Court. The same clever combination of the exotic and the mundane: the same careful detailing: the same sense of humour. It's not that we ever consciously repeat motifs," explains Jones, "But the ways we find to reach solutions to problems are inevitably linked. Echoes of past jobs exist because these are elements that have proven their effectiveness".
Learning from job to job is a key aspect of Poole Associates' approach. A nightclub interior underway in Jakarta is benefitting from ideas and cost-cutting solutions garnered from other work. A healthy exchange of ideas between Poole and Gary Sng, kept Sng's apartment evolving stylistically until the last minute. "Of course this isn't always the ideal way to work," comments Poole wryly. "But with a client as imaginative and brave as Gary, it was an enjoyable adventure". This project is characterised by its luxury and extraordinary attention to detail - beautifully concealed storage space; a translucent Italian onyx bar counter; gold leaf; custom dyed, quilted suede walls; and a stunning ceiling mural by Poole's colleague Willy Baet (also responsible for the eerily convincing Leonardo artwork at The Spot). "Ultimately every job no matter what the concept, is dictated by budget," says Poole. "Gary's apartment is very luxurious, but I hope it isn't the expense that hits you when you first see it, more the clarity of the design decisions we made and the sense of unity we strove for".
Poole's commitment to a clear contemporary interpretation and what he calls "relevance" - the rightness of approach to the structure/age/function of a project - is apparent in all his company's work, from the 26 Haagen-Dazs outlets all over the city, which where his first steps on the ladder of success, to the many restaurants, shop interiors, offices and homes he created since. "There's a worrying reflex, common to many designers and architects in Singapore, that equates the blanket use of expensive materials with creative interpretation: if it's covered in marble, it must be good," says Jones. "We are not interested in that kind of approach, preferring to follow the lead supplied by the original style of a property or the function of an interior, and the effect it's supposed to achieve". Poole agrees. "Of course we love working with the best materials, who doesn't, but if the budget's tight, we'd rather use them sparingly in high profile positions and bring interest to the job with salvaged or renovated elements".
Getting a feel for the right concept can involve lengthy research. Being commissioned for Nomads had Poole rushing to his reference books in an attempt to understand the culture he was trying to evoke. "My inspiration really came from yurts, the circular lattice-enforced tents the nomads live in, plus I introduced a feel of industrialised Third World utilitarianism to the bar and grill areas. I wanted it to feel a little like a Russian dive, but with reference to the Mongolian desert". The concept for Bobby Rubino's is less ambitious, deriving its simple, monochromatic scheme from Poole's appreciation of the grassroots, working man's history of burger and rib restaurants. "The site is a basement so we capitalised on that, installing this undulating corrugated iron ceiling - I was after the crowded warehouse feel without the claustraphobia", says Poole. Combining the atmosphere of a working man's canteen with the spirit of fifties jazz and R&B seemed to sum up where rib shacks came from originally".
Poole Associates are well known for their restaurant work and do a mean line in glamorous office refurbishment (the latest being Equinox Capital at Republic Plaza here in Singapore). But Poole admits to feeling more excited than he has for along time by the prospect of the new Levi's building near Genting Lane (Jay Gee House) his company is working on. "I love all aspects of my work, no detail is too small for my full attention. But having control over the whole concept, from the primary structural decisions to choosing the door fittings, is a rare and valued treat". The Jay Gee building will combine office and warehouse space, and Poole sees it as an example of the way the two very different arms of the clothing business can work together stylistically - a ground-breaking project that he hopes will spawn other industrial contracts. "Why shouldn't warehouses look good, too?"