W Retreat & Spa | Maldives | Wet
The pool bar and deck lounge at W are where the action happens throughout the day. Situated along the beach, the architecture was designed by Eco.id. Poole Associates designed the bar, furniture and fittings for this area.
To give the space a sense of permanence and durability, the bar is constructed from huge blocks of split face Indian granite. The layout is positioned so that one end of the bar drops into the pool, creating a space to swim-up and collect a cool drink. As there are other bars located around the resort, this space has limited seating at the bar itself, instead encouraging the guests to lounge in the over scaled day beds or on the wicker swings that are large enough for 2 persons.
Both floor and ceilings are timber, offset by structural columns in titanium rendered cement. A lattice of coconut and bronze forms the robust back bar display.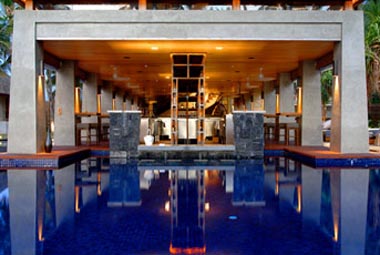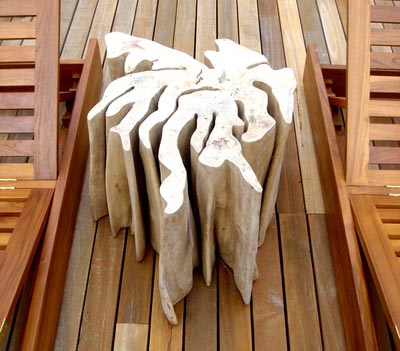 Nature as art : side tables at the pool are Gayam tree trunks from central Java, striped of their bark, sanded and waxed until smooth. The deep ridges of this tree species are a 100% natural occurrence. Every table is unique and highly expressive.