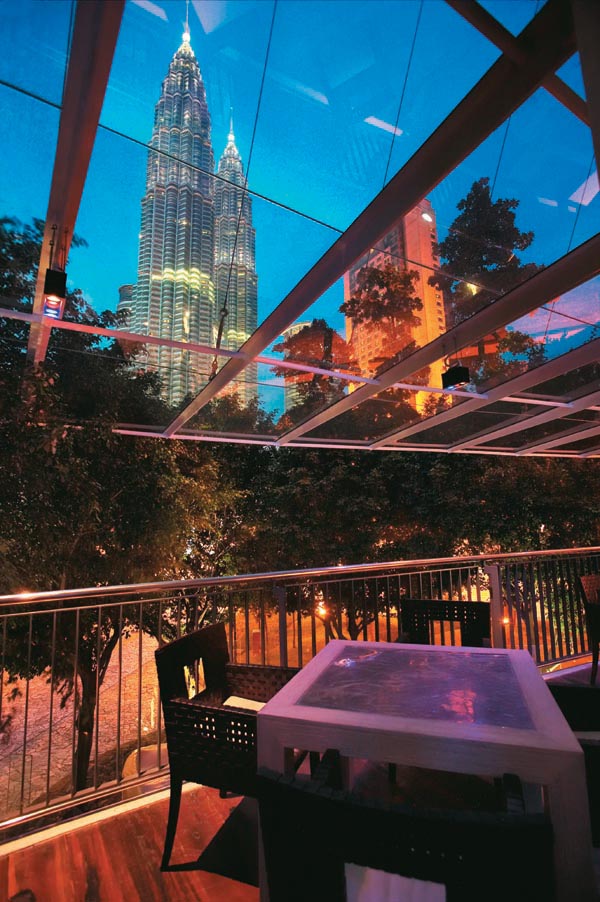 Dining on the mezzanine level with Petronas Twin Towers
Perhaps because of such fortuitous factors, we've never had to rely on designer restaurants or celebrity chefs to sustain our imaginations or trick our appetites. Nevertheless, as we become increasingly well-traveled, there's no reason we shouldn't demand more out of our eateries than just a sweaty chef and food with a good reputation.
"Celebrating global cuisine, at Sevenatenine the far East sits comfortably next to the middle east, and main course dishes epitomize borderless cuisine with impeccable harmony"
Sevenatenine [pronounced seven-eight-nine] certainly complies. Like this very nation, it's a confluence of many propitous factors: it enjoys a brilliant location, is elegantly designed, and celebrates cuisine with a menu that waves many flags yet waves none.
Operated by Michele Kwok and Fred Choo of Souled Out fame, and opened in March following a multi-million ringgit makeover, Sevenatenine has been proffered the designer touch, like the fabulous Third Floor, the sleek Scallini's, or the lively Lemon Garden. Designed by Ed Poole of Poole Associates, a team that have turned a long list of spaces into destinations in their own right, such as the exotic EEST at The Westin, KL, the Asian Bar Singapore, and W Retreat & Spa in the Maldives, Sevenatenine is an oasis in the steely heat of the city's towering skyscrapers.
Classic Pan-fried Foie Gras
Adopting a resort-style concept, the sparkling spires of the Twin Towers have become part of the wallpaper, and a glass roof extension keeps the elements off the gorgeous alfresco and upper deck while simultaneously making the most of the surrounding verdant greenery. Further blurring the line between indoors and outdoors is a profusion of lush sofa-beds, supple Accupunto chairs, Turbo tables, reflection pools and reams of white against dark 400-year-old Borneo railway sleeper floors.
The resulting ambience is informal yet wonderfully smart. Despite imposing no cover and no dress code, in its short life Sevenatenine has already seduced luxury brands like Coach and watchmaker Richard Mille, who have launched their latest collections here.
Still, like any restaurant worth its sea salt, all the designer furniture, celebrated designers, big name chefs and beautiful people mean nothing if the food is not up to scratch. Anna Schubert, Special Portfolios for the venue, reckons the open kitchen is the centre of action, as it should be.
The menu, divided into the relaxed "Street Level" and the white tablecloth "One Floor Up" menus, have been designed by Singapore's most feted chef, Emmanuel Stroobant, but it's Executive Chef Philip Azzarello who commands the kitchen here.
Celebrating what he calls Global Cuisine [not to be confused with the oft-bandied "fusion cuisine"] at Sevenatenine, the Far East [Tuna Maguro Sashimi, Green Tea Smoked Tomato, and Grated Daikon] sits comfortably next to Middle East [Homemade Kebab with cucumber Julienne and Wild Mint Dressing]. Main course dishes like crispy Steamed Green Leaf with Garlic, and Braised Venison Shank with Tomato, Chili, Five Spices and Buah Salak epitomize borderless cuisine with impeccable harmony.
You can dine from one or both menus, downstairs at communal tables near the action or upstairs in the comfort of a leather lined private dining area or dining room [with private bar]. Either way, the staff, or Men in Black, as they are dubbed, are happy to accommodate. Highly recommended are the Home-made Green Tea Smoked Salmon with Wasabi Dressing, and if your ethics don't oppose it, the Classic Pan-Fried Foie Gras with Carmelized Nashi Pear and Duck Stock Emulsion - it melts in the mouth in a cloud of rich smokey flavor to make it a truly memorable introduction to Azzarello's fare.
We also enjoyed the White Miso Marinated Black Cod with warm Japanese Eggplant Salad, which was simultaneously light yet bore the lusciously creamy flavor of cod seared to crisp but moist perfection. And if you're eating on the go, you can always rely upon thoughtfully included favorites, such as the Black Olive Fried Rice and seafood Laksa, rendered with a twist, of course.
Not for nothing has Sevenatenine earned the reputation as "the restaurant with a great bar." You can easily while away the evening supping on luscious papaya margaritas and black bananas at the Ice Bar. Happy Hours, languidly stretches from noon till 9:pm.
So if you're going to have any digits in your little black book, better make then Sevenatenine's. While the Souled Out connection may throw up images of beer and sports, it's obvious that Sevenatenine is a committed attempt to delivering a holistic dining experience and approach. Unpretentious yet stylish, casual yet smart, design conscious and delicious, there's not many places that get the balance right. Sevenatenine has managed that.